Here are the lists of the best WordPress page builder plugins. These WordPress page builder comes with loads of great blocks and widgets that make your WordPress website development effortless and efficient.
Designing a web page has become easy like never before. You can customize the page of your website with simple drags and drops.
No need to do lengthy coding or no need to hire a high charging web developer. All you need is a good eye to buy one of the Best WordPress Page Builder plugins.
With the use of a page builder WordPress plugin, you can give a whole new look to your webpages.
As you know the need for the design of a website to attract visitors and increase your website's traffic. These available plugins can do wonders for your website.
With a little investment, you will be able to save many hours of coding and money from high paying developers.
The time is going by and so are the new and better WordPress page builder plugins coming up. Now it has become a bit hard to choose one plugin for your website with so many of them available out there.
That is why we thought of writing this blog on The Best WordPress Page Builder Plugins.
In that case, we have researched well enough before listing the detailed reviews of the 4 best WordPress Page Builder Plugins at the prevailing time. The list is down below, also, we have written down Why bloggers love to use these WordPress Page Builder Plugins. Have all of them read.
Why do People love to use a Drag and Drop Page Builder Plugin for WordPress?
The answer is simple and sweet, they just love WordPress Page Builder Plugins because it is easy to use them. With the beginning of these kinds of plugins, a person doesn't have to search a web developer or coder to build their website.
These drag and drop WordPress plugins has changed the whole scenario of the website world. Now, if you look at the people, the people with no coding background are doing great at blogging and websites. All thanks to these drag and drop aided page builder plugins.
In a matter of a few seconds, you can give a whole new look to your website with the usage of the plugins.
Page Builder plugin provides you the ability to drag and drop various elements of webpages like widgets, blocks, and modules. Moreover, you can just play those webpage elements around like a spoon in the hand.
In a nutshell, the WordPress Page Builder Plugins have made website designing an easy piece of cake.
4 Best WordPress Page Builder plugins
Elementor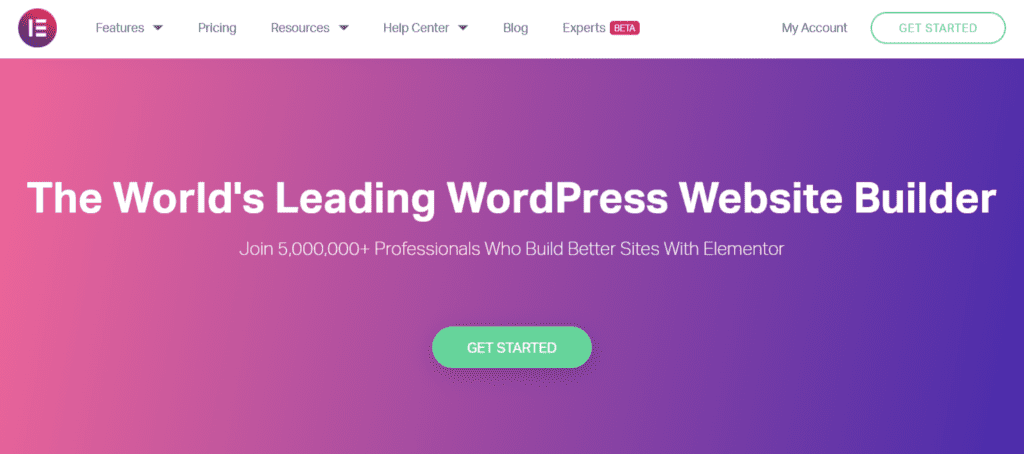 First thing first, Elementor is a name that is quite popular among WordPress users. With little over 3 million users, this is the market leader in the world of WordPress plugins.
Well, it has all of the good things to make it so successful. This plugin lets you enjoy the easy drag and drop editing of your webpage. In no time, you'll have designed your page the way you wanted.
Choosing this plugin, you will get access to over eighty website design elements like widgets and boxes. It has also got several pre-designed web page templates, you just select one of them and there you have the desired web page display.
Also, the 800 plus Google fonts of this plugin can add more attractiveness to your webpage and you can attract more readers every day. Elementor is a plugin that gives your page a varied right display for varied screen sizes. That means no problem if you have more mobile users.
It has a different pricing option starting from USD $ 49/ year for Elementor Personal plan. Similarly, the pricing is slightly high for Elementor Plus and Elementor Expert. You can get 50+ pro widgets and 300+ premium Elementor templates.
Why do we recommend Elementor plugin?
Elementor, has a very good image in the market. People love this plugin as of its features like front-end editing, multiple ready-made templates, 400+ icons, 800+ fonts, exporting and importing of templates, global elements, and several more. As for all these features, we could not stop recommending this plugin for your webpage.
Visual Composer Website Builder
Visual Composer Page Builder is one of the early WordPress page builder plugins. It is also a plugin that works under the drag and drop principle.
This plugin can be used in any of the WordPress themes and gets you a list of templates and elements. Images, Icons, buttons, charts, and graphs, and other elements can be brought up with a single drag and drop.
One of the best things about Visual Composer Page Builder is that it gives many add-ons which makes this plugin more compelling. Moreover, the plugin has a skin builder by which you can design your own elements as per your match.
This seems a good choice for those who want to turn their webpage into a symbol of their brand.
As in other plugins, you will get a number of templates that are nicely designed for setting your web page in Visual Composer Page Builder. It is an equally responsive plugin that can support various languages.
Why do we recommend the Visual Composer Page Builder plugin?
More than 4,300,000 current users are using this plugin. That many users cannot be using it without good features. Well, that is absolutely true with features of this plugin like both front-end and back-end editing, 200+ add-ons, integration with Google fonts, numerous templates, and several others. That is how this plugin got listed in this list of the 4 best WordPress plugins.
Beaver Builder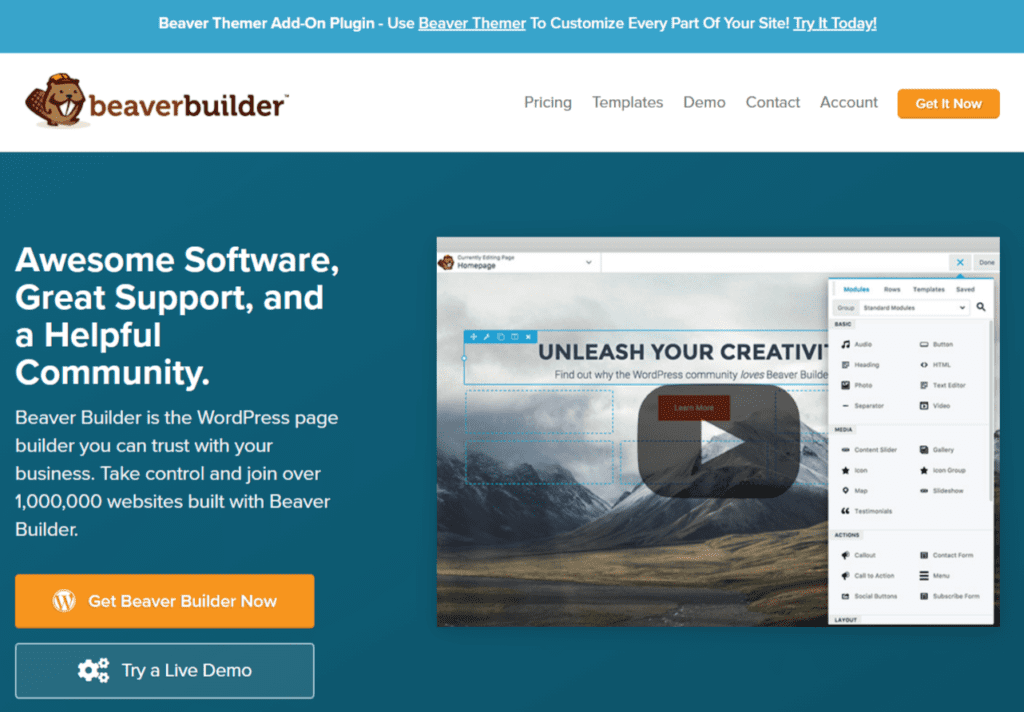 Beaver Builder is yet another popular WordPress page builder plugin. It is extremely easy to design your page with its live drag and drop interface. The interface is quite simple to get used to and you can just look at all of the changes you are doing on a page at the same time. Isn't that time-saving?
With the modules available in this plugin, you can bring the elements like sliders, buttons, blocks, background, and others by just dragging and dropping.
However, you will get limited but well-designed web page templates. With just a click on those templates, you can change the face of your website. Thanks to its user-friendly interface, a beginner can also learn to use the plugin pretty easily.
This plugin is also popular as the best plugin for WordPress landing pages. If you are looking to build a landing page then you'll get templates that are the right fit for landing pages.
Why do we recommend Beaver Page Builder plugin?
It is highly suggested to those who are just starting and do not know much about WordPress plugins. Other than that, using this, you can save your custom-made templates and modules and it supports multiple languages.
Divi Builder
Yeah, it is in the last of this list but Divi Builder is not the least at all. Instead, it is one of the feature-loaded page builder plugins.
Just as the Beaver Builder, this plugin is a page builder that has a visual drag and drop option. You can look at all of the alternations of yours in real-time.
That means you don't have to save changes every time and view the page again and again.
Divi Builder brings 46 content modules with which you can design your page. You can arrange those modules in various settings and can save a custom for yourself.
Those saved elements and layouts can also be transferred to other pages within no time. Moreover, the 20 gently made templates of the Divi Builder plugin are easy to go with one single click.
Likewise, you can use this plugin with its own very popular Divi WordPress theme or any other theme.
Yet, the best part about using Divi Builder Plugin is its pricing options.
With the price you pay for this plugin, you can get other premium products from Elegant Themes, the Divi Builders' company.
Why do we recommend the Divi Builder plugin?
Divi Builder is a great and powerful WordPress plugin that has many attractive features. Above all other features, you should get this plugin as of its 46 content modules, Custom CSS, unlimited undo and redos, global elements, row spacing, and control column features.
The lifetime package of this elegant plugin costs $249 is the best deal.
Our Best Pick
As we have reviewed the 4 best WordPress Page Builder plugins, it is very hard to go with one. All of them are good and worth trying. But if you still ask us which one is the best then it is Elementor.
We picked Elementor over others as of its easy to learn and user interface, real-time drag and drop function, and 300+ nicely crafted pro templates. Plus the pricing of Elementor is better than others.
You can use the plugin for 1000 sites at US$199/ year. That is how we thought Elementor can be the best pick.
But, all other listed plugins: Beaver Builder, WP Bakery Page Builder, and Divi Builder are good in their own way.
Therefore, look at all the aspects of the listed plugins and you'll surely find the best WordPress page builder plugins for your websites.
FAQ
Will the page builder plugins require any coding or web knowledge to install and use?
Not really. A little bit of basic website knowledge is okay for using these plugins. But if you need a custom feature or widget implemented into your website then you will require a coding knowledge. Our preferred go to WordPress experts are from Codeable.