If you are starting your career as a WordPress developer, then you might be looking for How to Install WordPress on Localhost. It can be quite difficult to how to get started with WordPress at the beginning. And when you get started, it will be easy for you to build awesome WordPress websites, Themes, and Plugins.
Learning WordPress is fun and developing awesome themes and plugins is even more fun. In this article, we will discuss how you can set up WordPress locally, install a WordPress hosting server and start building or developing. So, let's find out what you need to do and what you need to know to start installing WordPress locally.
How to Install WordPress on localhost
Installing WordPress on localhost is an easy task. If you are a developer or looking to become one then, you can use localhost to install WordPress to reduce the cost of the hosting server and develop something awesome locally on your computer.
System Requirements for WordPress
Database
Web Server
Operating System
Operating System
PHP Compatibility
MySQL 5.0 +
WAMP (Windows)
LAMP (Linux)
XAMP (Multi-platform)
MAMP (Macintosh)
Cross-platform
IE (Internet Explorer 8+),
Firefox
Google Chrome
Safari
Opera
PHP 5.2+
Download WordPress
WordPress is an open source Content Management System (CMS). By oepn source, it means that you can download it for free and start using it without paying anything. Open the link https://wordpress.org/download/ to download.
Create a Database
First of all, you have to log in to your PHPMyAdmin and then create a database name that will be used later on a WordPress installation.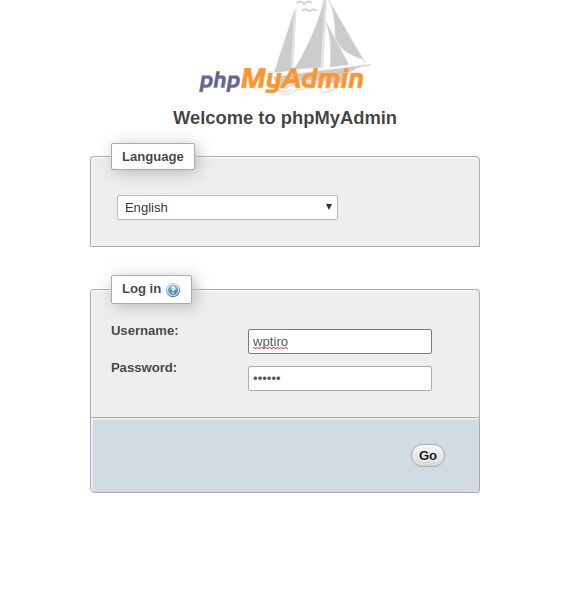 Set Up Wizard
It is very easy setup just follow the steps
Step (1) − Extract the downloaded WordPress folder and upload it into your web server or localhost.
Step (2) − Then Just type localhost/Your_wordpress_folder
Select your language for WordPress and click on "Continue" Tab.
Step (3) − In this step, you can view the information needed for the database before proceeding with WordPress installation.
Click on Let's go!
Step (4) − Here, you have to enter the information about the MySQL database as described in the following screen.
Database Name − Enter database name which you have created on phpmyadmin
Username − Enter the username of your MySQL database.
Password − Enter the password which you had set for MySQL database.
Database Host − Write the hostname, by default it will be localhost.
Table Prefix − It is used to add prefix in the database tables which helps to run multiple sites on the same database. It takes the default value.
After filling all information, click on Submit button.
Step (5) − WordPress checks the database setting and gives you the confirmation screen as shown in the following snapshot.
Click on Run the install
Step (6) − Enter administrative information.
It contains the following fields −
Site Title − Enter the name of the site which you are going to create in WordPress.
Username − Enter the username as per your choice while logging in the WordPress.
Password twice − Enter password two times to protect your site.
Your E-mail − Enter your e-mail address which helps to recover the password or any update.
Privacy − It allows the search engine to index this site after checking the checkbox.
After filling all the information, click on the Install WordPress button.
Step (7) − After installation being successful, you will get a screen of the stating success as seen in the following screen.
You can view your username and password detail added in WordPress.
Click on Log In button.
Step (8) − After clicking on login, you will get a WordPress Admin Panel as depicted in the following screen.
Enter the username and password which you had mentioned during installation as shown in step 6 and click on the Log In button.
Conclusion
We hope you liked this article on how to install WordPress on localhost. Let us know in the comment section below.
Some of our other articles